HELLSTONE
Info:
Titel                            HELLSTONE
Produktionsjahr       2015 / 2016 / 2017
Spieldauer                 88 Min
Genre                         Occult 80s Style Creature Horror
Sprache                     German, English subtitles
Aspect ratio              2.35:1
Release                      All Media: 08.12.2017
Synopsis English:
HELLSTONE tells the story of a dark, mystic stone, which has the power to open a temporary gate to Hell as long as it is fed with the blood of the human being possessing the stone. An occult, satanic covenant is trying to summon a demon and open a permanent gate to the underworld with the help of the stone to merge the dimension of hell and our reality as we know it for that hell will rule over the earth. Between this remorseless covenant and the literal gates of hell stands one man who becomes a witness of a violent satanic ritual, and from this point he is the only one who is able to stop the forces of evil by using the infernal powers of the dark stone by himself.
Synopsis German:
Hellstone ist ein Horrorspielfilm im Stile der 80er Jahre Creature-Feature, in dem es um einen dunklen, mystischen Stein geht, mit welchem durch Zugabe des eigenen Blutes temporär ein Tor zur Hölle betreten werden kann. Ein satanischer, okkulter Bund möchte mit Hilfe des Steins ein permanentes Tor zur Hölle öffnen um unsere Realität und die Dimension der Unterwelt zu vereinen. Zwischen diese dunkle, erbarmungslose  Sekte und dem buchstäblichen Tor zur Hölle gerät ein junger Mann, welcher Zeuge eines blutigen Rituals wird und ab diesem Zeitpunkt der einzige Mensch ist, der die Mächte des Bösen noch aufhalten kann, in dem er sich selbst die höllischen Fähigkeiten des dunklen Steins zu Nutze macht.
Trailer 1 – Official German Trailer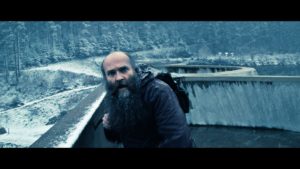 Trailer 2 – Experimental Grindhouse Trailer
HELLSTONE experimental VHS Cover